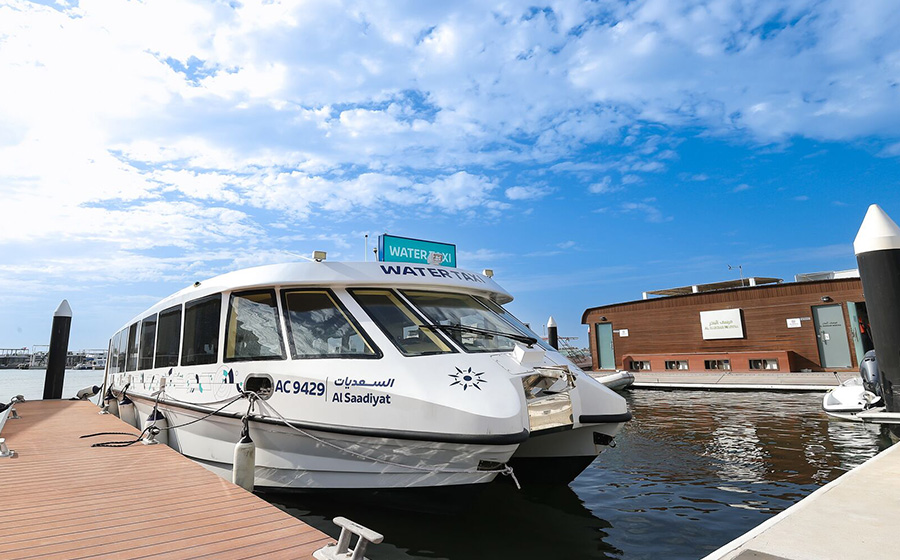 March 20, 2023
New online booking platform offers advance seat selection, online payment, and real-time booking notifications
Abu Dhabi, United Arab Emirates – 20 March 2023: Abu Dhabi Maritime, part of AD Ports Group's cooperation with the Department of Municipalities and Transport (DMT), has announced the launch of an online booking platform to serve passengers on all Abu Dhabi Public Water Transport routes.
Available through the Abu Dhabi Maritime website, the platform will support ticket reservation and online payment options while also offering real-time booking notifications. By integrating Abu Dhabi Maritime's digital and physical assets, the system will provide quick and easy booking for passengers at their convenience without the need for manual transactions at the terminal.
Customers can use the platform as a guest-user or will be able to log in to the platform either through an email ID registration, or by using their UAE Pass, Facebook, or Google credentials. Tickets available on the system will cover all Public Water Transport routes in Abu Dhabi across passenger and vehicle ferry options in addition to Water Taxi services in the emirate, which includes the newly launched Marsa Mina-Louvre Abu Dhabi line.
The announcement contributes to the aim of positioning the emirate as a top global maritime centre through the development of user-friendly regulation, advanced infrastructure, and world-class services.
Captain Ammar Mubarak Al Shaiba, Acting CEO – Maritime Cluster and SAFEEN Group, AD Ports Group, said: "Digitalisation is a core pillar within our organisational philosophy at AD Ports Group, and we are committed to deploying leading-edge technology and innovations to accelerate economic transformation and elevate the maritime sector. Through the automation of the reservation process, we look forward to providing our valued passengers with a user-friendly and unified online booking solution.
Captain Saif Al Mheiri, Managing Director of Abu Dhabi Maritime, said: "The development of a new online booking system for transport services across Abu Dhabi marks the latest in a series of digital initiatives undertaken by Abu Dhabi Maritime. In line with our vision to make Abu Dhabi's waterways more accessible to visitors, the new system will provide an easier and more convenient option for commuters and tourists alike that enhances their travel experience across Abu Dhabi's waterways."
Established in 2020 as part of AD Ports Group cooperation with the Department of Municipalities and Transport (DMT), Abu Dhabi Maritime is the primary custodian of Abu Dhabi's waterways and marine ecosystems mandated with developing the maritime domain alongside implementing a regulatory environment and ensuring compliance.