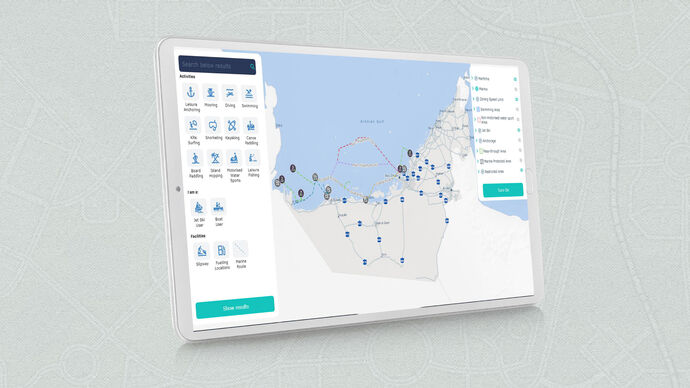 December 30, 2021
H.E. Hamad Al Mutawa: This mapping is a key milestone that aligns with our leadership's vision of fostering a sustainable world-leading maritime capital
The Maritime Safety Maps will be available on Abu Dhabi Maritime's digital portal in a fully-interactive format
The Department of Municipalities and Transport (DMT) has announced the first comprehensive and informative maritime safety mapping of all waterways within the emirate to ensure safe and efficient use of Abu Dhabi's waterways.
The new milestone is part of DMT's ongoing mission to introduce a regulatory framework to enhance navigational safety and elevate Abu Dhabi's standing as a leading maritime hub.
The new Abu Dhabi Maritime Safety Maps identify ideal locations for anchorage and point out areas with restricted access, such as major trade corridors and environmentally sensitive locations. . Areas designated for marine sports such as swimming and use by motorised and non-motorised craft are highlighted along with speed limits within each zone. It also monitors the use of private marine craft in areas reserved for them while keeping in line with global best practices and international and regional benchmarks.
The Maritime Safety Maps has been developed in close collaboration with AD Ports Group, the Environment Agency – Abu Dhabi (EAD), Department of Culture and Tourism (DCT), ADNOC, the Critical Infrastructure and Coastal Protection Authority (CICPA) and the Abu Dhabi Police.
A consolidated map for all vessels and a dedicated map for jet skis highlights pass-through areas, connectivity routes, dedicated areas for water sports activities, and the regulations regarding jet skis in designated areas.
H.E. Hamad Al-Mutawa, Executive Director of planning and Infrastructure Sector at DMT, said: "The issuing of Abu Dhabi Maritime's Safety Maps marks a major step in Abu Dhabi's continued efforts to modernise its maritime sector with advanced infrastructure and integrated capabilities, powered by the latest technological innovations."
He continued: "Invigorating and strengthening Abu Dhabi's physical and digital marine assets while introducing new regulations to govern the use of our precious waterways aligns with our leadership's vision of fostering a sustainable world-leading maritime hub. By working closely with our key strategic partners, DMT ensures that all citizens and residents can enjoy the safest and most efficient use of the emirate's waterways for generations to come."
Capt. Mohamed Juma Al Shamisi, Managing Director and Group CEO of AD Ports Group, said: "It gives me great pleasure to see the launch of Abu Dhabi's first comprehensive maritime safety maps, which herald a new era for our maritime sector. One of the major values of these safety maps is that they provide a clear demarcation between areas reserved for recreational use and areas dedicated exclusively to serve as major shipping lanes. This, in turn, will greatly elevate the level of security and safety of recreational activities on our waterways for the benefit of our leisure and recreation-minded community, while simultaneously enhancing the efficiency and effectiveness of commercial shipping for years to come."
Capt. Saif Al Mheiri, Managing Director of Abu Dhabi Maritime, AD Ports Group, said: "The development of the new maritime safety maps is a great example of our continued efforts to introduce digital tools that will enhance the safe movement of marine vessels operating within the emirate of Abu Dhabi. With this new solution developed by Maqta Gateway, the digital arm of AD Ports Group, the Maritime Safety Maps will be accessible via our digital portal. They will provide commercial operators and members of the public with all the information they need to make full use of the facilities that the emirate's maritime sector can offer without impeding vital national maritime operations. There will also be continuous revisions to the maps to add new elements as the sector progresses."
Al Mheiri concluded by saying: ""These latest efforts to regulate the usage of Abu Dhabi's waterways marks a significant milestone in our plans to foster a regulatory environment. It falls in line with best global practices and facilitates the efficient movement of maritime traffic in the emirate, ensuring the safety of all its users."
Saeed Al Dhaheri, Acting Tourism Products Development Director, DCT Abu Dhabi, said: "The Abu Dhabi Maritime Safety Maps will not only act as an integrated guide to our marinas and waterfronts.Still, they will also help provide idyllic and safe experiences for the local community and tourists who wish to visit them. In Abu Dhabi, we have a well-established infrastructure of marinas and yacht service facilities, in addition to the beautiful natural environment that encompasses pristine beaches, pure turquoise seas and spectacular islands. This initiative strengthens our position as a global destination for unique marine experiences, water sport activities and nature exploration. It supports the navigation of yachts and cruise ships into our ports to ensure a smooth integration of activities on land and sea."
Abu Dhabi's Maritime Safety Maps will provide real-time and easily accessible information for the benefit of the maritime community. Both Abu Dhabi Maritime and Maqta Gateway are working to introduce new digital solutions that will deliver an enhanced and streamlined experience for stakeholders, further supporting the leadership's vision to position Abu Dhabi among the world's top-five maritime centres.
The fully interactive maps will be available on Abu Dhabi Maritime's digital portal. Developed by Maqta Gateway, the digital arm of AD Ports Group, the maps can display the users' location in real-time and inform them of any regulations in effect within their current zone.
The maps will also be incorporated into the Navionics S.r.l. navigational software as part of a recently inked licencing agreement signed between the company and Abu Dhabi Maritime. Working closely together to improve the safety of vessels traversing Abu Dhabi's waterways, the two organisations will gather and exchange navigational data to include insights on potential hazards.